Search results (10)
Showing results 1 to 10
Digital Europa Thesaurus
health policy
medical research
Source: WHO, Global Health Observatory (GHO) data
What are behavioural insightsBehavioural insights concern how people perceive things, how they decide, and how they behave.Behavioural insights are generated by empirical...
A foresight research about priorities for foods and diets for health, taking into account future challenges and possible long-term developments. It supported the implementation of Horizon 2020, the European...
GAINS - Greenhouse Gas and Air Pollution Interactions and Synergies. TM5-FASST - Fast Scenario Screening Tool for impact analysis of air pollutant emissions on air...
World Bank, Tracking universal health coverage: 2017 Global Monitoring Report, (2017)IPES-Food, Towards a Common Food Policy for the European Union; the policy reform and realignment...
Since 2000, the global burden of disease from communicable diseases (e.g. infectious diseases, HIV, tuberculosis, and measles) has been outweighed by non-communicable diseases, (e.g. cardiovascular diseases...
Source: OECD Green Growth Indicators 2017 (interactive map)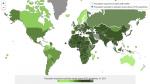 Source: World Bank indicators, with Millennium Project compilation and forecast; 2015-16 State of the Future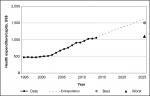 Source: WHO, Global Health Observatory (GHO) data (interactive map)

Source: WHO, Projections of mortality and causes of death, 2015 and 2030