Search results (299)
Showing results 1 to 10
Digital Europa Thesaurus
agricultural policy
Digital transition for farmers and rural communities: a toolkit for policymakers
Successfully managing the green and digital transitions is a crucial factor that could increase the resilience and strategic autonomy of the EU and shape its future. Yet digitalisation of agriculture and rural...
Digital transition: Long-term implication for EU farmers and rural communities Explore how the digital transition can bolster the resilience of agriculture and rural areas amid future...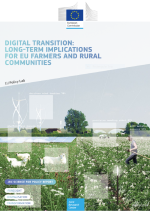 Highlights : We examine potential effects of digitalisation on agricultural policy. Digitalisation supports novel designs of instruments in multiple policy dimensions. Opportunities to improve targeting...
Greenhouse gas (GHG) emissions due to land use changes such as converting forests to agricultural land have been decreasing over the past 20 years...
This study, requested by the EP AGRI Committee, evaluates the challenges and opportunities for the EU dairy sector in light of milk quota abolition and the sector's medium-term prospects. It focuses...
Nourrir 1,5 milliard puis deux milliards d'Africains respectivement en 2030 et en 2050 est un défi que le continent a la...
Fruits & vegetable value chains (F&V VC) in Nigeria hold significant potential to continue toward sustainable, inclusive food system transformation. Domestic food...
The Central African region hosts the largest continuous tract of forest in Africa, regulating global climate while providing essential resources and livelihoods for millions of people and harbouring...