Search results (11)
Showing results 1 to 10
Related organisations
EC - European Commission
Digital Europa Thesaurus
poverty
La protection sociale est constituée d'un ensemble de politiques et de programmes visant à prévenir la pauvreté, la vulnérabilité et...
International remittance flows have proven their resilience through the COVID-19 pandemic-induced economic crisis in spite of initial expectations forecasting their decline and associated devastating...
The general objective is to help reduce poverty, as well as food and nutritional insecurity in rural communities in the central highlands of Madagascar. The specific objective is to help reduce the vulnerability...
The topics addressed by the SDGs touch many parts of your life, the life of your family and friends as well as your country's future. Do you want to...
A few days ago, Eurostat published the 2022 monitoring report on the progress towards the Sustainable Development Goals (SDGs) in an EU context. How is your country doing...
This B4Life report gives an overview of EU support to developing countries on biodiversity conservation: protecting threatened species and ecosystems and fighting the illegal wildlife trade while combating...
Sustainable development is firmly anchored in the European Treaties and has been at the heart of European policy for a long time. The 2030 Agenda for Sustainable Development and its 17 Sustainable...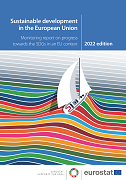 Eurostat, the statistical office of the European Union, published today the 'Sustainable development in the European Union - 2022 monitoring report on progress towards the SDGs in an EU context'...
How is the EU progressing towards the United Nation's Sustainable Development Goals (SDGs)? How has the COVID-19 pandemic affected these goals? The 17 SDGs, which...
The challenge of ending child labour remains widespread around the world with 160 million children engaged in child labour. Approximately half of these children are engaged...