Search results (13)
Showing results 1 to 10
Geographic coverage
European Union
Digital Europa Thesaurus
migration
New Atlas of Demography story on migrant workers in the EU A new thematic story in the Atlas of Demography highlights the key contribution of migrant workers to the EU labour market...
The European Border and Coast Guard Agency, also known as Frontex (from French: Frontières extérieures for "external borders"), is an agency of the European Union headquartered in Warsaw, Poland...
In view of the increased numbers of refugees; asylum seekers and migrants entering the EU; FRA publishes monthly reports highlighting key developments about the fundamental rights situation...
The European University Institute (EUI) is a unique international centre for doctorate and post-doctorate studies and research. Since its establishment 40 years ago by the six founding members of the then...
The European Policy Centre (EPC) is an independent, not-for-profit think tank dedicated to fostering European integration through analysis and debate, supporting and challenging European decision-makers at all...
The Institute for European Studies (IES) at the Vrije Universiteit Brussel (VUB) is an academic Jean Monnet Centre of Excellence and a policy think tank that focuses on the European Union in an international...
The EIB is the European Union's bank, owned by and representing the interests of the European Union Member States. EIB works closely with other EU institutions to implement EU policy...
The new edition of the Atlas of Demography launched today contains data on mortality, fertility and migration, population projections, new thematic stories, and a more user-friendly look. The...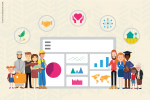 The Africa-EU Migration, Mobility and Employment (MME) Partnership aims to ensure sustainable development through better management of and joint cooperation on MME issues. It pushes for the implementation...