Search results (34)
Showing results 1 to 10
Related organisations
JRC - Joint Research Centre
Digital Europa Thesaurus
labour market
Explore the Bioeconomy country dashboard.
The Commission 2023 Report on the Impact of Demographic Change revisits firmly established long-term trends in light of a number of recent developments and considers the consequences across Europe.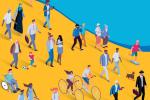 The Atlas of Migration is a reference book providing a snapshot of migration and a knowledge base for policymakers, stakeholders, businesses, researchers and the general public. The Atlas has 3 sections: migration...
About us The mission of the Competence Centre on Behavioural Insights is to support EU policymaking with evidence about human behaviour. Our objectives are to use behavioural...
The Science4refugees initiative welcomes refugee researchers and students looking for a suitable job. It provides research refugee friendly internships, part-time and full-time jobs, access to an European...
An explanatory video (archive footage) based on the latest data about the contribution of the bioeconomy to jobs and growth in the EU between 2008-2019.
This brief on 'jobs and growth in the EU bioeconomy 2008-2019' is one out of a series of Knowledge Centre for Bioeconomy's briefs which intend to provide independent evidence for EU policy...
The European labour markets were severely hit by the COVID-19 pandemic and the associated containment measures. A new JRC Technical Report looks at the labour market participation trends...
The Bioeconomy emerges as an opportunity towards more economic, social and environmental sustainability, becoming a priority for many countries, including the European Union and its Member States. According...
The analysis and monitoring of the bioeconomy at the regional level is of interest for policy design and evaluation, and it aligns with the territorial approach called for by the Bioeconomy Strategy (2018) of the European Union (EU)...