Search results (17)
Showing results 1 to 10
Digital Europa Thesaurus
bio-based product
labour market
Explore socio-economic data and indicators for the bioeconomy sectors in the EU and the Member States through an interactive dashboard.
The report highlights the importance of creating new bio-based value chains in order to realise "greener, more cost-effective industrial processes" and how they can ehance the "overall...
A sustainable and competitive bioeconomy in Europe is key for the success of the EU Green Deal and the achievement of the EU's green recovery. BBI JU projects contribute to this objective by structuring and mobilising...
The Sustainable Recovery Plan set out in this report shows governments have a unique opportunity today to boost economic growth, create millions of new jobs and put...
The bioeconomy comprises those parts of the economy that use renewable biological resources from land and sea – such as crops, forests, fish, animals and micro-organisms – to produce...
The infographic provides 2014 figures on employment and turnover of the European bioeconomy.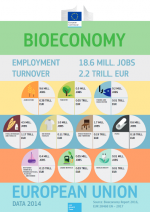 The bioeconomy employed approximately 18.4 million people in the European Union (EU) in 2014 while generating around 2.2 trillion euros of turnover. Over the period 2008-2014...