Search results (8)
Showing results 1 to 8
Digital Europa Thesaurus
biomass
labour market
Explore the Bioeconomy country dashboard.
An advanced biofuel plant under construction in Romania is at the centre of an EU-funded project to prove the environmental and economic benefits of producing cellulosic ethanol from agricultural residues.
On June 11, 2020, the European Commission published "The EU Blue Economy Report 2020", an overview of the performance of the EU economic sectors related to oceans and the coastal...
Get detailed insights into the trends of all economic activities based on the oceans, seas and coasts.
Seaweed cultivation is a large industry worldwide, but production in Europe is small compared to production in Asian countries. In the EU, the motivations for seaweed farming may be seen from two...
Facts and figures on biomass, turnover and employment
Providing regular analysis and data is fundamental for policy makers and stakeholders to monitor the development of an economic sector and make the necessary decisions to maximize the benefits it generates, be...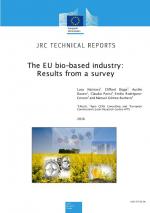 In 2012, the European Commission (EC) launched the Bioeconomy Strategy and Action Plan with the objective of establishing a resource efficient and competitive society that reconciles food security with the sustainable use...