Search results (51)
Showing results 1 to 10
Geographic coverage
Europe
Digital Europa Thesaurus
innovation
The event aims at giving an overview to prospective applicants of the latest EUSPA/EU financial instruments for space business development.
Conference presentations and documents
The new country infographics (September 2021) present the impacts of BBI JU-funded projects in key figures and highlight how the programme has advanced the circular bio-based economy...
This new annual conference will bring together key stakeholders from across the space and satellite sectors to debate on how Europe and its space sector must adapt...
Recent international climate agreements ask for an acceleration of innovation in climate change mitigation technologies (CCMTs). To design and plan efficient and effective actions, evidence is needed on what...
The Biorefine Cluster Europe interconnects projects and people within the domain of biobased resource recovery, striving to contribute to a more sustainable resource management.
The 1st CASSINI Hackathon connected hundreds of hackers with geospatial information from Copernicus Earth observation data and its services and/or positioning technologies from Galileo & EGNOS.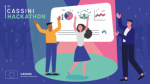 The future health of Europe's people and the planet lies on our plate: the way in which food is farmed, fished, processed, distributed, valued, prepared, consumed and wasted must...
This Brief describes research priorities for transforming Food Systems in Europe. Agriculture-environment nexus and agroecology in Europe. Regenerative agriculture (as agroecology) embraces farming principles and practices...
ESPAS is an inter-institutional collaboration among the officials of the European Commission, the European Parliament, the Council of the EU, and the European External Action Service, with the support of the Committee of the Regions and of the European Economic...