Search results (54)
Showing results 1 to 10
Geographic coverage
Africa
Digital Europa Thesaurus
innovation
The OceanChallenge4Africa marine data hackathon brought together more than 200 participants to build a thriving blue economy and promote a sustainable ocean.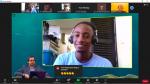 Resilient Food Systems (RFS) promotes a holistic approach to enhancing agricultural productivity and restoring degraded landscapes in smallholder farming systems. This report showcases the achievements and...
Climate Change and Food Systems: Transforming Food Systems for Adaptation, Mitigation, and Resilience Many promising innovations and policy approaches show potential to address climate change...
Key messages Many digital innovations have been developed and deployed in recent years in Africa, many of which have only been implemented at pilot...
Prepared for the 15th meeting of System Council held on March 8-9, 2022, this report proposes an external review of the second set of 12 CGIAR Initiatives proposals. The...
The agroecological transition implies rethinking the way farmers are supported in their changes in practices. Farmer Field Schools are an effective mechanism in this respect, since they build...
Highlights This policy study is authored by the Advisory Group (AG) on R&I for Africa-Europe cooperation commissioned by the European Commission´s Directorates-General for Research and Innovation and for International Partnerships. The document...
This AU-EU Innovation Agenda proposes specific objectives with short-, medium- to long-term actions for all four priority areas of the AU-EU High-Level Policy Dialogue on Science, Technology...