Search results (4)
Showing results 1 to 4
Related organisations
JRC - Joint Research Centre
Digital Europa Thesaurus
innovation
research
Country-based indicators for all EU member states
This report analyses EU-funded collective action projects in the energy field. The objective is to provide an overview of the current state of play of relevant research and innovation activities in the EU and to identify...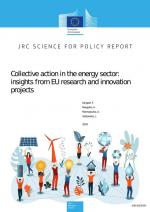 Scenario Exploration System that facilitates societal debate around nanotechnology development in Europe.
This note seeks to provide a cursory overview of the technology transfer field including its delineation, historical background, organisation, development, and associated policy.The term knowledge transfer...