Search results (52)
Showing results 1 to 10
Geographic coverage
World
Digital Europa Thesaurus
forest
FAO: global forest fragmentation derived from COPERNICUS Global Land Cover 2015 dataset
Global Forest Watch offers the latest data, technology and tools that empower people everywhere to better protect forests.
A factsheet to find out how restoring the world's degraded and deforested landscapes promotes a healthy climate.
Analysis suggests that to limit global temperature rise, we must slash emissions and invest now to protect, manage and restore ecosystems and land for the future.
Quantifying the dynamics of land use change is critical in tackling global societal challenges such as food security, climate change, and biodiversity loss. Here we analyse...
The circular bioeconomy – an economy powered by nature and its sustainable resources – offers a unique opportunity to use renewable natural capital to holistically transform and manage...
Managing forests for climate change mitigation requires action by diverse stakeholders undertaking different activities with overlapping objectives and spatial impacts. To date, several forest carbon...
This document summarizes the design process, definitions, and algorithmic implementation conducted by the Joint Research Centre to support the development and implementation of FAO's global forest analysis for the thematic topics...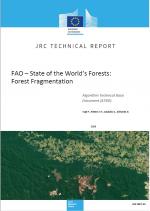 The turnover time of terrestrial ecosystem carbon is an emergent ecosystem property that quantifies the strength of land surface on the global carbon cycle–climate feedback. However, observation- and modeling-based estimates...
Data on import and export of secondary paper products expressed in thousand euro and thousand units of national currency. Secondary products include further processed paper products...