Search results (10)
Showing results 1 to 10
Related organisations
JRC - Joint Research Centre
Digital Europa Thesaurus
forest
land use
FAO: global forest fragmentation derived from COPERNICUS Global Land Cover 2015 dataset
ForestEurope: pan-European forest fragmentation derived from CORINE 1990, 2000, 2006, 2012, 2018
Forest carbon potential is an indicator which is developed to assess relative changes in carbon stock and flows and to compute its variation between two time periods, in relation...
This document summarizes the design process, definitions, and algorithmic implementation conducted by the Joint Research Centre to support the development and implementation of FAO's global forest analysis for the thematic topics...
This document describes the design process, definitions, and algorithmic implementation for the pan-European Assessment of Forest Fragmentation. This study is a preceding presentation of the indicator 4.7 in the State of Europe's Forests 2020...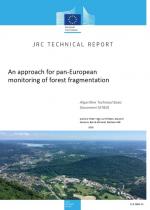 Regulation (EU) 2018/841 ('LULUCF regulation') sets the accounting rules for the Land Use, Land-Use Change and Forestry (LULUCF) sector in the EU for 2021–2030, i.e. how the emissions...
Research is at the basis of the JRC's support to a range of forest-related policies, including the EU Bioeconomy, Biodiversity, and Forest Strategies and the Paris Climate Agreement. This website describes research activities...
Discover the methods and assessments developed to benchmark the monitoring of forest resources and carbon emissions.
Agricultural land and forest & natural vegetated (F&NV) areas are the largest land groups in the EU, each one accounting for more than 40% of the EU territory...
In European forestry, one essential, although not yet available information, was the distribution of the forest tree species in the European wide territory. This first Atlas of Forest...