Search results (3)
Showing results 1 to 3
Related organisations
JRC - Joint Research Centre
Geographic coverage
European Union
Digital Europa Thesaurus
Data
economic growth
View 2017 data on employment and value added for the European bioeconomy in an infographic.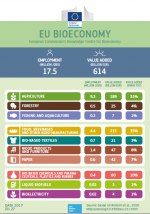 Commission Decision of 25 February 2016 setting up a Scientific, Technical and Economic Committee for Fisheries, C(2016) 1084, OJ C 74, 26.2.2016, p. 4–10. The Commission...
The infographic provides the update of the 2015 figures on employment, turnover and value added of the European bioeconomy.