Search results (16)
Showing results 1 to 10
Digital Europa Thesaurus
Data
labour market
Explore the Bioeconomy country dashboard.
Bioeconomy in Europe, the 6th Report by Assobiotec and Intesa Sanpaolo The pandemic caused by the SARS-COV2 virus has made it more evident that the models of economic development need...
This report on the Italian biotech industry, drafted thanks to the consolidated collaboration between Assobiotec (Italian Association for the Development of Biotechnology, part of Federchimica) and ENEA (National Agency for New...
Renewable energy technologies create jobs and up and down the supply chain and can spur broad and sustainable social and economic development. Renewables accounted for an estimated 11.5 million...
View 2017 data on employment and value added for the European bioeconomy in an infographic.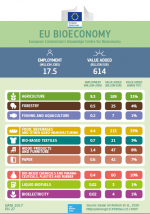 The bioeconomy could play a significant role in Europe's recovery from the COVID-19 crisis, if governments and industries capitalize on shifting demands and priorities, adapt to the new funding realities...
Bioeconomy worth 2.4 trillion EUR to the European economy as bio-based industries mark sizeable jump in turnover and bio-based share of chemicals reaches record high of 15%
The development of the bioeconomy—or the substitution of fossil-based materials and energy by bio-based solutions—is considered a strategic economic orientation by the European Commission and its Green Deal. This paper presents a methodology...
This report gives an assessment of socioeconomic indicators for the Norwegian bioeconomy. The report is an outcome of a project funded by Innovation Norway in collaboration with the Research Council of Norway. The objective of this project was...
Commission Decision of 25 February 2016 setting up a Scientific, Technical and Economic Committee for Fisheries, C(2016) 1084, OJ C 74, 26.2.2016, p. 4–10. The Commission...