Search results (34)
Showing results 1 to 10
Knowledge service
Bioeconomy
Digital Europa Thesaurus
Crop yield
Discover research projects on agricultural biomass since 1996 and the organisations involved.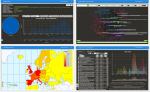 Current ozone (O3) concentration levels entail significant damages in crop yields around the world. The reaction of the emitted precursors (mostly methane and nitrogen oxides) with solar...
The analysis of uncertainty in large-scale agricultural economic models has gained attention from a policymakers and researchers' viewpoint. The different methodologies available vary depending on data availability and the nature...
Data on area, harvested production, yield, and humidity of crops by country and species expressed in thousand of hectares, thousand of tonnes, kg per hectare and %, respectively. At present Eurostat...
Crop statistics are recorded for 173 products, covering the following categories: Crops Primary, Fibre Crops Crop statistics are recorded for 173 products, covering...
We suggest that the unprecedented and unintended decrease of emissions of air pollutants during the COVID-19 lock-down could lead to declining seasonal ozone concentrations, and positive impacts on crop...
The System of Environmental-Economic Accounting for Agriculture, Forestry and Fisheries (SEEA AFF) offers the possibility to assess and report detailed accounts for primary industries while establishing important linkages...
Cleaner air since the start of coronavirus restriction measures could lead to a global increase in wheat yields this year of between 2% and 8%, according to a study led by the JRC.
Using big data to solve agricultural development problems faster, better and at greater scale.