Search results (8)
Showing results 1 to 8
Digital Europa Thesaurus
bio-based product
Turnover
Explore socio-economic data and indicators for the bioeconomy sectors in the EU and the Member States through an interactive dashboard.
A sustainable and competitive bioeconomy in Europe is key for the success of the EU Green Deal and the achievement of the EU's green recovery. BBI JU projects contribute to this objective by structuring and mobilising...
The bioeconomy comprises those parts of the economy that use renewable biological resources from land and sea – such as crops, forests, fish, animals and micro-organisms – to produce...
The infographic provides 2014 figures on employment and turnover of the European bioeconomy.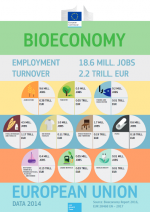 The bioeconomy employed approximately 18.4 million people in the European Union (EU) in 2014 while generating around 2.2 trillion euros of turnover. Over the period 2008-2014...
This report contains 9 guiding principles and 8 policy recommendations for jobs and growth through bio-based products.
Providing regular analysis and data is fundamental for policy makers and stakeholders to monitor the development of an economic sector and make the necessary decisions to maximize the benefits it generates, be...