Search results (30)
Showing results 1 to 10
Knowledge service
Bioeconomy
Digital Europa Thesaurus
Mitigation
Access presentations and keynote speech of this Webinar.
Analysis and assessment of growing stock, increment and removals provided from the European Forest Account system, Forest Resource Assessment, Carbon Budget Model and other data sources
Input CBM raw data used to run the Carbon Budget Model (CBM) to simulate the effect of "Vaia" windstorm on the Italian forest carbon budget between 2000...
Only if there is a fundamental change in the way we manage land can we reach the targets of climate-change mitigation, avert the dramatic loss of biodiversity and make...
TIM Edge puts together various datasets to track emerging technologies as they progress towards concrete market applications. Patents, scientific publications, news from the media...
Data on greenhouse gas emissions inventory (in CO2 equivalent), as reported to the European Environment Agency (EEA). Note that Eurostat is not the producer of these data, only...
This report highlights the importance of assessing emission mitigation from a multi-dimensional perspective. For this, a quantitative framework to analyse the potential contribution of different technological mitigation options in EU agriculture...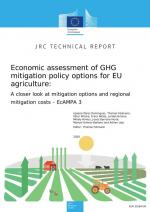 World agriculture needs to find the right balance to cope with the trilemma between feeding a growing population, reducing its impact on biodiversity and minimizing greenhouse gas (GHG)...
There is an inextricable link between our food systems and accelerated climate change. A growing body of evidence reveals that accelerated climate change has far-reaching impacts...