Search results (16)
Showing results 1 to 10
Digital Europa Thesaurus
Agriculture
bio-based product
What are farmers interested in when it comes to the utilisation of bio-based resources?
The objective of the seminar is to describe the potential of local biorefineries on supporting EU policies on environment and climate, and their contribution to EU self-sufficiency with plant protein and bio-based products. The seminar...
The study assesses the agricultural sector's involvement in the BBI JU portfolio and identifies many challenges that the sector faces as participant in the bio-based sector and its value chains. It...
Innovation is key to improving productivity, sustainability and resilience in food and agriculture.
Website dedicated to bio-based products, Agrobiobase guides you through hundreds of products, by: - facilitating your sourcing - informing you with key data...
The Bio-based Industries Consortium (BIC) has published three new Country Reports mapping the potential and identifying opportunities for expanding the bio-based industry in Poland, Portugal and Romania
The report delivers an assessment of EU biomass production, uses, flows and related environmental impacts for the sectors agriculture, forestry, fisheries and aquaculture, and algae. Quantitative estimates are...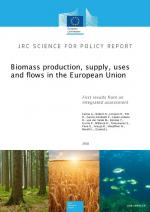 Set up and foster cooperation mechanisms between agriculture, forestry and industry