Search results (4)
Showing results 1 to 4
Digital Europa Thesaurus
Agriculture
biomass
research
Discover research projects on agricultural biomass since 1996 and the organisations involved.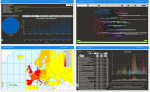 This research provides an analysis of existing scientific production on agricultural waste from 1931 to 2018. The database was obtained from Scopus and includes a total of 3148 articles, which were...
Danish university founded in 1928 integrated by four faculties: faculty of arts, of health, of business, and of science and technology. The university's goal is to contribute towards solving the complex global...
This study assesses crop residues in the EU from major crops using empirical models to predict crop residues from yield statistics, and analyses the inter-annual variability of those estimates...