Search results (4)
Showing results 1 to 4
Digital Europa Thesaurus
agricultural product
Agriculture
Learn about projections for supply and demand of agricultural commodities.
This report presents the results of an impact analysis of several reform options of the agricultural produce cess in Tanzania. The produce cess is a levy charged by Local Governments Authorities (LGAs)...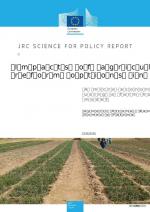 Maintenance and sustainability of agricultural products sources are considered as the significant principles of sustainable agriculture while healthy products and continuity in production are dependent on the development of sustainable...
We hypothesize that biological diversification across ecological, spatial, and temporal scales maintains and regenerates the ecosystem services that provide critical inputs—such as maintenance of soil quality, nitrogen...