Search results (9)
Showing results 1 to 9
Knowledge service
AI Watch
Content type
Topic / Tool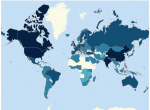 AI as a general-purpose technology can rapidly spread across industry sectors and yield strong positive growth effects.
Education and training are crucial to harness AI, but AI can also help us rethink what competences and skills will be needed in the future to live...
For an application of AI to be ready for market entry it has to learn on the basis of training data. Additionally, it may need further data sources in order...

The Digital Single Market and its regulatory framework will provide key enablers to enhance AI adoption.