Search results (5)
Showing results 1 to 5
Related organisations
EEA - European Environment Agency
Content type
Publication
Submission under the United Nations Framework Convention on Climate Change and the Kyoto Protocol
This report describing the state of nature in the EU is based on reports from Member States under the Birds (2009/147/EC) and the Habitats (92/43/EEC) directives and on subsequent assessments at EU or EU biogeographical...
Top threats to natureIntensive agriculture, urban sprawl and unsustainable forestry activities are the top reported pressures to habitats and species, the EEA report says. Pollution of air...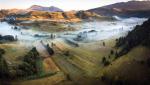 A significant proportion of the burden of disease in Europe continues to be attributed to environmental pollution resulting from human activity. This report highlights how the quality of Europe's environment plays...
Bio-waste – mainly food and garden waste – is a key waste stream with a high potential for contributing to a more circular economy. This report provides an overview of bio-waste...