Search results (108)
Showing results 1 to 10
Related organisations
JRC - Joint Research Centre
Content type
Publication
Discover uses and sources of woody biomass at EU and Member State's scale (2009-2017 data).
Individual skills and talents, more than capital, are the driving forces that guide human beings towards the future. From 2013 through 2020, the business school INSEAD advanced...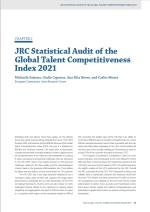 The Transitions Performance Index (TPI) 2021 is the second edition of a new composite indicator, which measures the performance of countries along four transitions: economic, social, environmental...
The Resilience Dashboards are multidimensional monitoring tools which assess the Vulnerabilities and Capacities of the European Union and its Member States on four dimensions: social and economic, green...
Here, we develop further the national chemical footprint assessment methods using Sweden as an example to enhance the precision of calculations. First, we integrate grid data...
The world is changing under the pressure of environmental and health crises, and in this context, location and political choices become of even more poignant importance. Following a Culture-Based Development (CBD)...
Culture is an integral part of a city's quality of life, a driver of urban change, and a genuine economic sector. To support benchmarking of urban culture and facilitate peer learning amongst...
Over the course of history, cities, influenced by various historical, social, economic, demographic or political factors, have gone through cycles of growth and decline. While the world...
The Atlas of Migration is a reference book providing a snapshot of migration and a knowledge base for policymakers, stakeholders, businesses, researchers and the general public. The Atlas has 3 sections: migration...
Research shows that loneliness and social isolation have harmful repercussions on mental and physical health, as well as significant consequences on social cohesion and community trust. Both loneliness...