Search results (275)
Showing results 1 to 10
Related organisations
JRC - Joint Research Centre
Knowledge service
Bioeconomy
Content type
Publication
Fisheries and aquaculture biomass production within a sustainable and circular bioeconomy
This behavioural experiment with farmers assessed the effect of two policy features of the new green architecture of the EU common agricultural policy on the adoption of environmentally friendly practices: (1)...
The Waste Framework Directive (2008/98/EC) establishes an annual reporting obligation for MS on food waste generation as of reference year 2020. The common methodology is defined in the Commission delegated...
This report provides an overview of various market power indicators within the food industry in selected Member States (MS) in the EU. In addition, the report aims to examine whether...
Science for Policy Handbook provides advice on how to bring science to the attention of policymakers. The handbook is dedicated to researchers and research organisations aiming to achieve policy impact. Today...
The European Strategy for Plastics in a Circular Economy (COM(2018 28 final) proposes a vision where innovative materials and alternative feedstocks to fossil resources are developed and used...
Life cycle assessment methods are used to monitor and predict environmental impacts at all stages of a system's life cycle. They can support policymaking and help...
Forests are often perceived as being at the nexus of the solutions to the two main environmental crises that are plaguing our planet today: Climate change and biodiversity loss...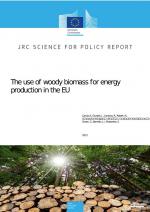 This study aims to provide information about circular economy perspectives in the management of textile products and textile waste in the European Union (EU). The report improves the understanding of current...
This report summarizes a year of drought events through the monitoring and forecasting activity of European (EDO) and Global (GDO) Drought Observatories, as part of the Copernicus Emergency Management Service...