Search results (75)
Showing results 1 to 10
Knowledge service
AI Watch
Content type
Publication
AI research: the risks and opportunities of continuously chasing breakthroughs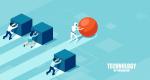 This report illustrates and follows the steps to build an AI Watch Index from the collection of outputs of AI Watch analyses. It identifies a set of indicators suitable to provide a comprehensive...
A policy brief on how digital technologies can modernise the public sector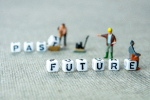 New generations of cars are making use of advances in the field of Artificial Intelligence (AI) to provide semi-autonomous and autonomous driving capabilities, achieving a technological breakthrough that will...
This policy brief addresses the question of what it takes for Europe to become a global leader in AI in health. First, it analyses Europe's position in the global AI...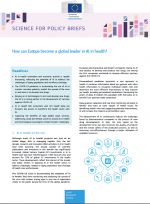 This document presents a sectoral analysis of AI in health and healthcare for AI Watch, the knowledge service of the European Commission monitoring the development, uptake and impact of Artificial Intelligence for Europe...
Artificial Intelligence (AI) offers the potential to transform our lives in radical ways. However, the main unanswered questions about this foreseen transformation are when and how...
Artificial intelligence (AI) can have a major impact on the way modern societies respond to the hard challenges they face. Properly harnessed, AI can create...
As made clear in 2nd AI WATCH Peer Learning Workshop on 'AI in a pandemic society', there is still very little knowledge about the use and the consequences of using...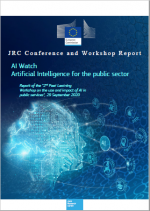 Will today's emerging technologies impact the teaching profession in the future? Which parts of the teaching tasks or learning processes could be substituted, enhanced and transformed through...