Search results (4)
Showing results 1 to 4
Geographic coverage
Senegal
Content type
Publication
Ce rapport présente les résultats d'une évaluation ex-ante de plusieurs scénarios de ciblage des ménages agricoles pour le programme de...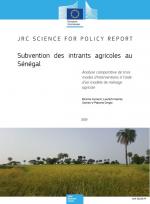 Covid-19 risks overshadowing and compounding the already severe food and nutrition crisis in the Sahel and West Africa. Several tens of millions of people are threatened. The region's stability...
Résumé: Ce rapport fournit des arguments scientifiques à l'appui d'options politiques en faveur du secteur agricole pour la deuxième phase...
JRC and CCAFS jointly organized a workshop on June 13-14, 2012 in Ispra, Italy with the aim to advance the state-of-knowledge of data assimilation for crop yield forecasting in general, to address...