Search results (9)
Showing results 1 to 9
Geographic coverage
Mauritania
Content type
Publication
Le poisson représente environ 70 % des besoins en protéines animales au Sénégal, et plus de la moitié de ces...
This strategic evaluation covers the full range of emergencies WFP responds to from preparedness, immediate response and longer-term response through to exit. The evaluation is organized around the contribution that WFP...
WFP is scaling-up investments to build community assets, promote education, improve nutrition and health, and create jobs for young people in five countries of the Sahel region –...
The Early Warning Early Action (EWEA) Report on FoodSecurity and Agriculture is produced by the Food and Agriculture Organization of the United Nations (FAO). It provides a quarterly forward-looking analysis...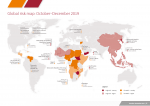 The September 2019 update of the Global Report on Food Crises provides estimates of the peak number of people in urgent need of assistance for food, nutrition and livelihood support in 2019...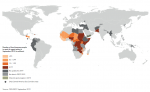 This manual serves as a technical guidance for conducting food security and nutrition situation analyzes for a given area or group of households. The manual will allow the users: To become familiar...
Au Sahel, on observe une situation très variable entre les pays. Alors que l'Est de la région a observé un démarrage normal...
The Structural Migration Profiles present fundamental information on the country's structural characteristics, with a yearly and historical perspective and with a map of critical areas linked with the international framework (SDGs). "Must-Know"...
The Global Report on Food Crises is the reference document on the latest estimates of acute hunger in the world. It is a public good prepared collectively by 15 leading global and regional...