Search results (19)
Showing results 1 to 10
Geographic coverage
Cameroon
Content type
Publication
Identifying quality criteria of RTB crops and products. Guidance on bâton de manioc in Cameroon.
This summary report is based on a cross-cutting analysis of the present status of the cottonseed systems in nine African countries: three in West Africa (Benin, Côte d'Ivoire and Senegal), two...
In Africa, cocoa yields are low, partly due to soil fertility constraints and poor management. While peoples' knowledge, aspirations, and abilities are key factors...
Although liberalization of the cocoa sector has increased internal competition within the marketing chain it has also led to the emergence of informal market actors within...
This report presents selected achievements and lessons from the growing portfolio of fisheries and aquaculture investments supported by IFAD.The introduction summarizes key issues and gives an overview of IFAD-supported actions...
From the appointment of the Secretariat in September 2014 up to the closing in June 2019, PARM's participatory agricultural risk management (ARM) engagement process has been successfully implemented in 8...
This Second Biennial Review Report builds on the efforts of the first round and tracks the performance of countries on each of the 47 indicators (four more than in the inaugural report) that shows the performance...
The WFP 2020 Global Hotspots Report highlights grave challenges in sub-Saharan Africa over the next six months with Zimbabwe, South Sudan, the Democratic Republic of Congo...
The Early Warning Early Action (EWEA) Report on FoodSecurity and Agriculture is produced by the Food and Agriculture Organization of the United Nations (FAO). It provides a quarterly forward-looking analysis...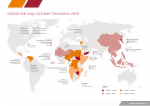 The September 2019 update of the Global Report on Food Crises provides estimates of the peak number of people in urgent need of assistance for food, nutrition and livelihood support in 2019...