Search results (14)
Showing results 1 to 10
Digital Europa Thesaurus
bioeconomy
Content type
Publication
This article outlines principles for coordinating bio-based industries to achieve many of the sustainable development goals.
Working Paper no.1 –The Baltic Sea Regional Bioeconomy Council
Employing a state-of-the-art multi-region market simulation model and database, the aim of this research is to further build on existing research which has attempted to tackle some of these questions...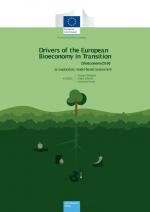 This joint analysis brings together expertise from three IEA Bioenergy subtasks, namely Task 34 on Pyrolysis,Task 40 on International Trade and Markets, and Task 42 on Biorefineries...
The Government's bioeconomy policy targets sustainable, effective and profitable production, extraction and use of renewable, biological resources into food, feed, ingredients, health products, energy, materials...
This report provides an overview of about twenty bioeconomy strategies, at international, national and sub-national levels. It analyses how these strategies have addressed sustainability issues...
Minister Dijksma (Environment) and minister Kamp (Economic Affairs) inform the House of Representatives about a government-wide programme for a circular economy in the Netherlands by 2050.
The Government-wide Programme for a Circular Economy, entitled 'A Circular Economy in the Netherlands by 2050', was presented to the House of Representatives on 14 September 2016. The programme sets out...
Applying global knowledge – strengthening bioeconomy