Search results (5)
Showing results 1 to 5
Geographic coverage
Ethiopia
Digital Europa Thesaurus
food safety
Content type
Publication
This edited volume brings together effective measurement, methodologies, and determinants of food loss & waste (FLW), and more.
The September 2019 update of the Global Report on Food Crises provides estimates of the peak number of people in urgent need of assistance for food, nutrition and livelihood support in 2019...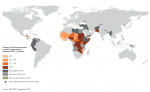 The first Agrobiodiversity Index Report assesses dimensions of agrobiodiversity in ten countries to measure food system sustainability and resilience. Countries receive an overall Agrobiodiversity Index score...
Globally, 108 million people in 2016 were reported to be facing Crisis level food insecurity or worse (IPC Phase 3 and above). This represents a 35...
The Global Report on Food Crises is the reference document on the latest estimates of acute hunger in the world. It is a public good prepared collectively by 15 leading global and regional...