Search results (73)
Showing results 1 to 10
Geographic coverage
European Union
Digital Europa Thesaurus
biomass
Content type
Publication
Fisheries and aquaculture biomass production within a sustainable and circular bioeconomy
This study looks at the big picture of biomass use across the EU economy and suggests ways to realise the greatest possible value from biomass resources in a transition to net-zero greenhouse...
The European Commission has put forward a long-term vision for the EU's rural areas, identifying the challenges and concerns that they are facing, as well as highlighting some of the most...
Forests are often perceived as being at the nexus of the solutions to the two main environmental crises that are plaguing our planet today: Climate change and biodiversity loss...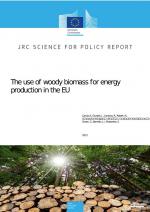 This brief is one out of a series of Knowledge Centre for Bioeconomy's briefs which intend to provide independent evidence for EU policy in this field. 1. Assessing the role of the forest-based...
Algae biomass production within a sustainable and circular Bioeconomy
Wood resource balance (WRB) sheets are most useful in providing an overview of sources and uses of woody biomass, highlighting data gaps and inconsistencies. This technical report...
This Heat and Power from Biomass Technology Development 2020 presents an assessment of the state of the art, development trends, targets and needs, technological barriers, as well as techno-economic projections until...
The EU's 2018 Bioeconomy Strategy Update and the European Green Deal recently confirmed that the bioeconomy is high on the political agenda in Europe. Here, we propose a conceptual analysis...
This report discusses the progress towards the 2020 Energy Efficiency targets and the implementation of the provisions of the Energy Efficiency Directive 2012/27/EU (EED), providing an overview of the main energy trends...