Search results (245)
Showing results 1 to 10
Digital Europa Thesaurus
biomass
Content type
Publication
Fisheries and aquaculture biomass production within a sustainable and circular bioeconomy
This study looks at the big picture of biomass use across the EU economy and suggests ways to realise the greatest possible value from biomass resources in a transition to net-zero greenhouse...
The European Commission has put forward a long-term vision for the EU's rural areas, identifying the challenges and concerns that they are facing, as well as highlighting some of the most...
In this study, sound absorbing materials were produced through foam forming technique using hardwood and softwood pulps with varying chemical composition, ultrastructural, and morphological properties...
Forests are often perceived as being at the nexus of the solutions to the two main environmental crises that are plaguing our planet today: Climate change and biodiversity loss...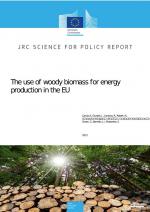 The scientific literature contains contrasting findings about the climate effects of forest bioenergy, partly due to the wide diversity of bioenergy systems and associated contexts, but also due...
Increasing applications and markets for essential oils could bring new opportunities for cost-effective and sustainable management of unused forestry biomass; however, better knowledge of the production and application...
Agroforestry, relative to conventional agriculture, contributes significantly to carbon sequestration, increases a range of regulating ecosystem services, and enhances biodiversity. Using a transdisciplinary approach, we combined...
Purpose: A circular (bio)economy is sustained through use of secondary raw material and biomass feedstock. In life cycle assessment (LCA), the approach applied to address the impact of these...
Biomass is a renewable source of valuable feedstock for the chemical industry of the future. A promising approach to the utilization of valuable components of biomass is the synthesis of monomers and polymers, if the overall technology...