Search results (30)
Showing results 1 to 10
Digital Europa Thesaurus
land use
Content type
Publication
This is an assessment report by the FAO Commission on Genetic Resources for Food and Agriculture (2019).
Highlights Large-scale land-based mitigation (~600 Mha) in pathways in line with the Paris agreement could conflict with food security. Mitigation in 2050 might change food...
This UNCCD technical report presents the results of an analysis of the key elements of the LDN framework developed by the UNCCD, the LDN voluntary commitments adopted by countries and the CBD and its Strategic...
KEY MESSAGES Nature and its vital contributions to people, which together embody biodiversity and ecosystem functions and services, are deteriorating worldwide. Nature across most...
The Knowledge Innovation Project on an Integrated system of Natural Capital and ecosystem services Accounting (KIP INCA) aims to develop a set of experimental accounts at the EU level, following...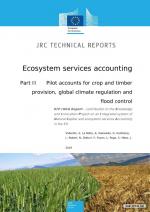 This book provides the reader with a complete understanding on how bioenergy technologies fit into the new bioeconomy paradigm. Sections focus on the main resources and technologies for bioenergy and its integration...
Tunisia is a typical country of the Mediterranean region where high prevalence of overweight, obesity and non-communicable diseases co-exist with some micronutrient deficiencies, and diet-related environmental issues must...
IPBES (Intergovernmental Science-Policy Platform on Biodiversity and Ecosystem Services) is to perform regular and timely assessments of knowledge on biodiversity and ecosystem services and their interlinkages at the global level. The...
Agroforestry, relative to conventional agriculture, contributes significantly to carbon sequestration, increases a range of regulating ecosystem services, and enhances biodiversity. Using a transdisciplinary approach, we combined...
This document summarizes the design process, definitions, and algorithmic implementation conducted by the Joint Research Centre to support the development and implementation of FAO's global forest analysis for the thematic topics...