Search results (8)
Showing results 1 to 8
Geographic coverage
Cameroon
Digital Europa Thesaurus
malnutrition
Content type
Publication
Levels of hunger in 2021 remain alarmingly high, with close to 193 million people acutely food insecure and in need of urgent assistance across 53 countries/territories, according...
The September 2019 update of the Global Report on Food Crises provides estimates of the peak number of people in urgent need of assistance for food, nutrition and livelihood support in 2019...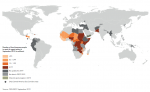 Undernutrition imposes a staggering cost worldwide, both in human and economic terms. It is responsible for the deaths of more than 3.5 million children each year (more than one-third...
The Landscape Analysis of readiness to accelerate action in nutrition is a systematic approach to assessing where to invest and how to best invest to accelerate action in nutrition. "Readiness analysis" is frequently...
This SUN Strategy 2012-15is a summary of the Movement's goals, objectives, mode of operation and accountability. It should be read in conjunction with the 2012 SUN Road Map which...
Globally, 108 million people in 2016 were reported to be facing Crisis level food insecurity or worse (IPC Phase 3 and above). This represents a 35...
The Global Report on Food Crises is the reference document on the latest estimates of acute hunger in the world. It is a public good prepared collectively by 15 leading global and regional...