Search results (7)
Showing results 1 to 7
Geographic coverage
Liberia
Digital Europa Thesaurus
food security
malnutrition
Content type
Publication
L'avis du PREGEC résume les principaux messages clés de la réunion du Dispositif régional de prévention et de gestion des...
The 2021-22 agro-pastoral season was mixed overall. Cereal production, estimated at 73 million tonnes, is down by 2.2% compared to last year. Large decreases were...
The restricted meeting of the RPCA brought together approximately 160 participants via video conference and onsite at the OECD Conference Centre to discuss the final results of the 2021-22 agropastoral season...
This document analyses the evolution of the impact of COVID-19 in the ECOWAS zone. It helps provide an understanding of the overall socio-economic impact of the pandemic and its effects on the life of households, and identifies...
The 37th annual meeting of the Network brought together nearly 150 participants to discuss the provisional results of the 2021-22 agro-pastoral season, the food market situation, the macroeconomic context...
The September 2019 update of the Global Report on Food Crises provides estimates of the peak number of people in urgent need of assistance for food, nutrition and livelihood support in 2019...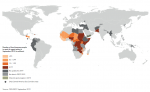 The Global Report on Food Crises is the reference document on the latest estimates of acute hunger in the world. It is a public good prepared collectively by 15 leading global and regional...