Search results (20)
Showing results 1 to 10
Geographic coverage
European Union
Digital Europa Thesaurus
waste management
Content type
Publication
The EU wastes more food than it imports, says this report from environmental organisation Feedback EU.
The EU CSS action plan foresees the development of a framework to define safe and sustainable by design (SSbD) criteria for chemicals and materials. The SSbD is an approach to support the design, development...
CONTEXT In the European Union (EU-27) and UK, animal farming generated annually more than 1.4 billion tonnes of manure during the period 2016–2019. Of this, more than 90%...
The Code of Conduct for Responsible Food Business and Marketing Practices is one of the first deliverables of the EU Farm to Fork Strategy and an integral part of its action plan. It...
This paper has mapped the opportunities of producing biogas from industrial wastewaters and quantified the biogas production potential of different EU industry sectors. The results show that biogas has...
National studies on food waste quantification in EU countries present highly discrepant results due to different quantification approaches adopted. The European Commission has published...
This brief on food waste is one out of a series of Bioeconomy Knowledge Centre briefs which intend to provide independent evidence for EU policy in this field. 1. According...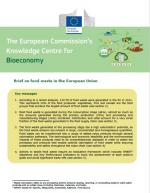 As a result of the growing awareness of the need to prevent food waste, several initiatives have been launched in the last few years to reduce food waste generated across...