Search results (11)
Showing results 1 to 10
Knowledge service topics
Building knowledge for policy
Knowledge service
Evidence-Informed Policy Making
Content type
Publication
Online Resource
Page
This report presents the state-of-the-art scientific knowledge on Values and Identities from an interdisciplinary perspective. Values are said to be the dominating forces in life and Identities represent who we...
Audience research to inform the design of the new Knowledge for Policy web platform.
Today we face major policy challenges, which cannot be solved without scientific evidence. Science and policy are different worlds, but they...
Drawing from many disciplines, the report adopts a behavioural psychology perspective to argue that "social media changes people's political behaviour". Four pressure points are identified...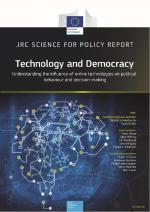 Science for Policy Handbook provides advice on how to bring science to the attention of policymakers. The handbook is dedicated to researchers and research organisations aiming to achieve policy impact. Today...
"What science says to be 'true' and what we believe to be true, are sometimes at odds. How can policymaking possibly resolve these differences?"...
The European Commission's Joint Research Centre (JRC) employs over 2000 scientists and seeks to maximise the value and impact of research in the EU policy process. To that end, its...
"Science & Diplomacy provides a forum for rigorous thought, analysis, and insight to serve stakeholders who develop, implement, or teach all aspects of science and diplomacy. The open...