Search results (10)
Showing results 1 to 10
Geographic coverage
Spain
Content type
News
Scientists from the Copernicus Atmosphere Monitoring Service (CAMS*) have been closely monitoring the impact of the eruption on atmospheric composition.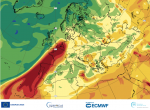 Since the end of July, the forecasts of the Copernicus Emergency Management Service (CEMS) European Forest Fire Information System (EFFIS) had already predicted the likely development of fires...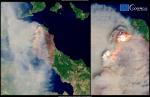 The Tropospheric Ozone Monitoring Instrument (TROPOMI) onboard the Copernicus Sentinel-5P satellite provides observations from which the atmospheric SO2 amount can be obtained at an unprecedented 3.5...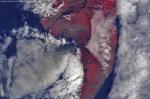 From capturing images of the rivers of lava, to measuring gas emissions and assessing damage, the fleet of Copernicus Sentinel satellites have been providing crucial data for local teams.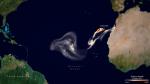 On 11 September 2021, the Copernicus Emergency Management Service (CEMS) Rapid Mapping was activated following the request of the Spanish General Directorate for Civil Protection and Emergencies...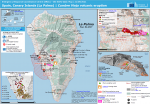 High-resolution satellites have detected substantial quantities of methane leaking from adjacent landfill sites close to the center of Madrid, Spain.
A study published this week in Frontiers in Marine Science used Copernicus Marine data to show that the food-rich waters of the Bay of Biscay may be a deadly temptation for small...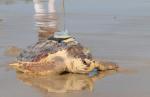 The European Commission's Competence Centre on Behavioural Insights has just published a report on farmers' adoption of green practices (PDF). EU farmers participated in an...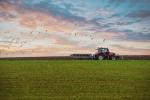 More than a week after the Cumbre Vieja volcano erupted, satellite imagery has helped authorities monitor and manage the crisis.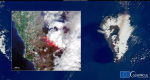 Satellites have been watching as the Cumbre Vieja volcano towering over the Spanish island of La Palma erupted for the first time since 1971 on Sunday.