Search results (15)
Showing results 1 to 10
Digital Europa Thesaurus
agricultural waste
Knowledge type
News
Visualisation
Scientists at the DHBW Karlsruhe create a concept study and prototype
Korea-Spain joint research team develops an itaconic acid mass production method using inexpensive raw materials such as byproducts from gas fermentation from steel mills...
Use treated wastewater to irrigate and fertilise fields, meeting up to 70% of the Emilia-Romagna region's irrigation water needs, also reducing fertiliser costs by around 30%. This is the result...
Locals have come up with an affordable and eco-friendly way to generate fuel in Syria, as diesel prices skyrocket around the country.
Trial of diverting textiles from landfill to farm has potential to recycle 'huge amount' of material.
Agriculture and forestry produce waste such as wood, bark and straw. An EU-funded project has investigated the potential for producing new materials for the construction industry.
The BioMonitor project released two policy briefs that focused on future-oriented scenarios developed for the analysis with the BioMonitor Model Toolbox. These scenarios present possible future development...
Discover research projects on agricultural biomass since 1996 and the organisations involved.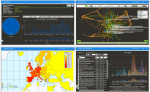 The BioMonitor project is setting up its storylines and narratives that can best reflect our bioeconomy futures. To meet the need of its users, the consortium is asking for your help...
A new degradable bioplastic film that could help India manage its chronic food waste has been developed using tapioca starch previously destined...