Search results (4994)
Showing results 1 to 10
Content type
News
Topic / Tool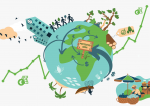 Fabrics and textiles made from the naturally occurring polymer cellulose are breaking ground in the move towards sustainable fashion.
To establish a carbon-neutral circular economy in the future, technologies are needed that use carbon dioxide as a raw material. In the form of formate, CO2 can be metabolised by certain...
Southern Africa: In Southern Africa, summer crops in most agricultural areas are in early vegetative development stages and rainfall performance has been mostly positive...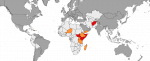 This contribution covers humanitarian assistance to address urgent needs as well as support to tackle the underlying causes of malnutrition, including a longer-term food systems transformation in EU partner...
The Commission selected 14 regional and local administrations and two networks, across Europe, to participate in the Science meets regions programme, aiming at boosting evidence-informed policymaking at local...
While many refugees and migrants are accommodated in EU-funded facilities, it is estimated that over 1,000 people are outside the temporary accommodation facilities, with limited access...
The ocean has never been an obstacle between Europe and Latin America and the Caribbean (LAC). Europeans and Latin Americans have always felt close despite this natural...