Search results (22)
Showing results 1 to 10
Knowledge service
Foresight
Digital Europa Thesaurus
migration
Knowledge type
Page
News
Topic / Tool
The societal and political significance of migration has increased. Migration dynamics have become more complex in an interconnected world.
Seven discussion formats for a forward-looking debate on migration and integration.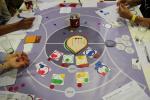 Environmental security is increasingly dominating national and international agendas, shifting defense and geopolitical paradigms. Worldwide, the number of displacements associated with natural disasters is considerably higher than that of those...
Increasing rate of desertification reduces the amount of farming land.| Related Megatrends: Climate and environment In China, soil erosion is of about 5 billion tonnes annually affecting...
Eurobarometer surveys between 2011 and 2019 show that the shares of people mentioning immigration as one of the most important issues for the EU reached a peak during the so-called asylum...
The total number of migrant children in the EU was estimated at 6.9 million in 2018 with about 2.6 million EU citizens that live in another Member State and about...
A study of immigration detention practices and the use of alternatives to immigration detention of children, Athanassia P. Sykiotou, Council of Europe, 2017Does Development Reduce Migration?, Michael A...
In the long term, migration can lead to better allocation of labour and overall, tends to have a positive impact on the economic and social development in most countries involved. From the perspective...
In general, migrants contribute as much to public finances in taxes as they receive in benefits, i.e. the net fiscal impacts of immigration are minimal. This fiscal impact depends...
DevelopmentsIn the past 20 years, the number of non-EU immigrants and mobile EU citizens living in EU-27 Member States and the UK has increased by about 60 per cent...