Search results (36)
Showing results 1 to 10
Digital Europa Thesaurus
Energy
Content type
News
Visualisation
Topic / Tool
A game-changing toolbox is helping hydropower managers, planners and decision-makers achieve efficient sediment management.
The European Commission's "Drought in northern Italy - March 2022" report offers an assessment of the evolution and impact of the 4-month long drought in the region, based on data from CEMS.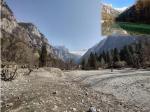 In line with the REPowerEU communication and the revised EU rules on renewable energy published today, EU Member States are required to map suitable land and sea areas...
Fourth national report on the circular economy: the ENEA-CEN proposals for addressing the price increases caused by the pandemic and Ukrainian crisis
The gas that is second on the list of the worst greenhouse gas contributors to climate change is methane. It also creates both air pollution and causes ozone depletion.
Behind the struggle to stop governments propping up the coal, oil and gas industries.
Behavioural changes which affect the way people use energy are an important part of the toolkit for reaching net zero emissions by 2050.
Europe is battling a record-breaking surge in energy prices that threatens to derail the post-pandemic economic recovery, strain household incomes and even tarnish the nascent green transition.
The Commission adopted its State of the Energy Union Reports for 2021, taking stock of the progress that the EU is making in delivering the clean energy transition, nearly two years...
Technology and regulation alone will not deliver a climate neutral energy system. A people-centred approach is needed for a successful transition - in which low carbon lifestyles...