Search results (25)
Showing results 1 to 10
Knowledge service
Biodiversity
Content type
Event
Topic / Tool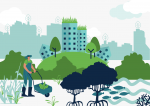 The Alternet 2022 conference aims to address these questions by focusing on what interdisciplinary biodiversity research can contribute to the transformative change agenda in biodiversity and health. It...
The European Commission organises the virtual marine stakeholder conference "Future of our Seas" on 17 December 2021 from 09:30 to 16:00. The conference will bring together a diverse...
The European Commission and the Belgian Biodiversity Platform are happy to invite you to our online-event "New Policies, New Practices", launching the new EU biodiversity governance...