Search results (98)
Showing results 1 to 10
Content type
Topic / Tool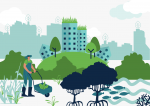 Discover how the bio-based sectors contribute to the economy of the EU and its Member States!
What we consume and how we live affects our environment. Insights into human behaviour can help design more effective environmental policies.
Biomass is the physical basis of the bioeconomy and at the core of the societal challenges it addresses. Knowledge on biomass production, availability and use is key.
Transition to sustainable food systems is essential to end hunger, malnutrition and poverty while preserving the environment.