Search results (11)
Showing results 1 to 10
Digital Europa Thesaurus
employment policy
Background & aims The current global pandemic of Coronavirus (COVID-19), and measures adopted to reduce its spread, threaten the nutritional status of populations in Low- and middle-income countries...
As infections spiked across Southeast Asia, the number of confirmed cases in Lao PDR surged from fewer than 50 cases in early April to over 6,000 cases in August...
What happens to employment if exports change? Try this interactive tool to simulate the effects of demand changes on jobs. Tool based on the Social Accounting Matrices. [expandable...
In accordance with the European Commission definition (European Commission, 2018), the Bioeconomy encompasses not only on primary sectors that employ and produce biological resources, but also those activities...
WWF is calling for EU countries to phase out their coal power by 2030 to fight the climate crisis and uphold the Paris Agreement. The European Commission has set...
World Employment and Social Outlook, Employment by StatusSource: ILO, World Employment and Social Outlook
The labour market is polarisingSource: OECD, "How technology and globalisation are transforming the labour market", in OECD Employment Outlook 2017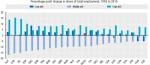 Source: McKinsey Global Institute analysis, (2017), Where machines could replace humans
Source: Artificial Intelligence Index, 2017 Annual Report, p 19