Search results (12)
Showing results 1 to 10
Knowledge service
Foresight
Digital Europa Thesaurus
public health
Source: WHO, Global Health Observatory (GHO) data
With increasing numbers of older dependants in the population, concerns on how to finance social security, social care and long-term health arise. The ability to reshape the health and long-term care...
Pollution and air quality are among the main factors increasing health problems and reducing life expectancy in cities; therefore, stricter regulations for limiting harmful emissions...
Priority should increase for prevention and early detection of diseases rather than cure of the symptoms.Use of AI and big data to identify trends in health by regions, for encouraging prevention of potential...
Policies to address practices, prices, and research priorities of the pharmaceutical industry are needed. Public funding for basic research should increase, to ensure expansion of responsible and socially-needed...
Extremely impoverished people are at most risk from climate change, water scarcity, flooding, limited access to energy and pollution. This is mainly because they often live...
Source: OECD, 2017, Measuring distance to the SDG targets:an assessment of where oecd countries stand (pdf)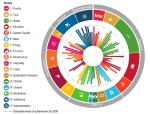 Source: OECD Green Growth Indicators 2017 (interactive map)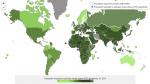 Source: World Bank indicators, with Millennium Project compilation and forecast; 2015-16 State of the Future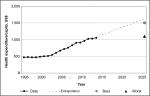 Source: WHO, Global Health Observatory (GHO) data (interactive map)