Search results (519)
Showing results 1 to 10
Related organisations
JRC - Joint Research Centre
IFAD - International Fund for Agricultural Development
Knowledge service
Bioeconomy
Explore the supply and use of agricultural, forestry and fisheries biomass in the EU.
The objective of the foresight process was to look at Open Strategic Autonomy in a systematic and systemic way, encompassing different dimensions and look at them in a holistic manner. This report is part...
The EU and the international community is realising that the Water, Energy, Food and Ecosystem components are interlinked and require a joint planning in order to meet the daunting global challenges related...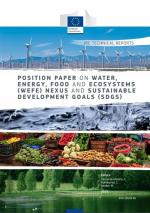 BiodiverCities, a European Parliament pilot, aims to improve civil society participation in planning decision-making with respect to urban biodiversity, the nature in and around cities. The project has two...
Global and regional scale agricultural monitoring systems aim to provide up-to-date information regarding food production to different actors and decision makers in support of global and national...
The aim of this report is to analyse recent agricultural policy developments in the countries/territories of the Western Balkans (WBs) and Turkey and their state of harmonisation with the Common Agricultural Policy (CAP) of the EU...
The use of algae biomass in food applications is still a growing market in Europe. One key consideration is the regulatory status of algae items potentially used as food and food...
The European Strategy for Plastics in a Circular Economy (COM(2018 28 final) proposes a vision where innovative materials and alternative feedstocks to fossil resources are developed and used...
During the last 30 years, the Common Agricultural Policy has increased the importance given to improving the environmental and climate performance of the European agriculture, as confirmed by the Future CAP...
KEY MESSAGES After remaining virtually unchanged for five years, the prevalence of undernourishment (PoU) increased 1.5 percentage points in 2020 – reaching a level...