Search results (22)
Showing results 1 to 10
Knowledge service
Bioeconomy
Digital Europa Thesaurus
sea
Algae biomass production within a sustainable and circular Bioeconomy
In May 2019, DG MARE and the JRC published its Blue economy Report. The main focus was on boosting a "blue" economy, the sustainable use of ocean resources...
In 2018, the EU fishing fleet numbered 81 199 vessels with a combined gross tonnage of 1.56 million tonnes and engine power of 6.3 million kilowatts. Based...
Commission Decision of 25 February 2016 setting up a Scientific, Technical and Economic Committee for Fisheries, C(2016) 1084, OJ C 74, 26.2.2016, p. 4–10. The Commission...
An analysis of nitrogen and phosphorus flows in the Baltic Sea catchment area
Various human-induced environmental pressures such as eutrophication affect the Baltic Sea. A coupled hydrodynamic-biogeochemical model was used to assess the response of the Baltic Sea's ecosystem to climate...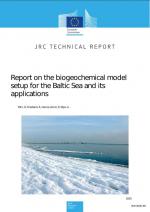 Challenges and solutions to achieving the potential of the European blue bioeconomy
The Annual Report on the EU Blue Economy aims to describe the scope and size of the blue economy in the European Union, creating a baseline to support policymakers and stakeholders in the quest for sustainable...
Seagriculture, which can provide offshore grown macroalgae biomass would play a significant role in bioeconomy. Nevertheless, seagriculture development has been hindered by the lack...
Several countries have been setting up strategic roadmaps to support marine biotechnologies that could drive innovation and help address the global sustainability goals of food, energy...