Search results (42)
Showing results 1 to 10
Knowledge service
Bioeconomy
Digital Europa Thesaurus
nutrition
Overview of Food-Based Dietary Guidelines and their key features, validated by Member States.
Forests, trees and agroforestry play a key, often undervalued, role to support food security and nutrition (FSN), in its four dimensions (availability, access, utilization and stability)...
The overexploitation of terrestrial habitats, combined with the ever-growing demand for food, has led to the search for alternative food sources. The importance of seaweeds as food sources has been growing...
The importance of healthy diets is woven into the fabric of the Sustainable Development Goals, although there is no clear metric to define it. Employing a simulation model (MAGNET), this study...
The purpose of this issues paper by the High Level Panel of Experts on Food Security and Nutrition (HLPE), requested by the Chairperson of the Committee on World Food Security (CFS), is to provide insights...
In a new book, Transformation of our food systems - the making of a paradigm shift, 40 international experts set out the highlights and trends in food production since 2009...
Background: The current food system has major consequences for the environment and for human health. Alignment of the food policy areas of mitigating climate change and public health will...
COVID-19 pandemic movement restrictions as part of the control measures put in place by countries in Sub-Saharan Africa (SSA) has implications on food security, as movement restrictions coincided...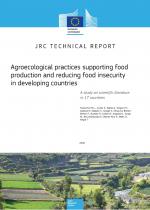 This is the fourth report highlighting progress made by the EU and its Member States towards implementing their common policy commitments on food and nutrition security.1 It is accompanied...