Search results (27)
Showing results 1 to 10
Knowledge service
Bioeconomy
Digital Europa Thesaurus
Efficiency
TIM Energy maps technologies and innovations in the field of energy, as identified in the Strategic Energy Technologies Plan (SET-Plan).
The EU Strategy for Energy System Integration will provide the framework for the green energy transition. The current model where energy consumption in transport, industry, gas and buildings...
Investments in energy efficiency improvements are vital to ensure Europe's future as a sustainable, yet prosperous economy. Amid the COVID-19 crisis, however, there is a great risk...
G20 countries represent a dynnamic group of leading economies with a diverse set of visions and approaches for sustainable development. Member states come from all continents, produce 85...
The report assesses the Second Long-Term Renovation Strategies (LTRS) submitted by Member States in 2017 (LTRS 2017) in compliance with Article 4 of the Energy Efficiency Directive (Directive...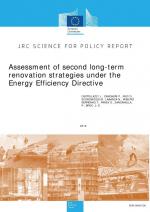 Land-use changes are critical for climate policy because native vegetation and soils store abundant carbon and their losses from agricultural expansion, together with emissions from agricultural...
First the bioeconomy and then circular economy have gained political traction during the second decade of this century. There are synergies to be exploited, but also potential...
The Circular Economy Action Plan adopted in 2015 aims to turn Europe's economy into a more sustainable economy, boosting Europe's global competitiveness, promoting sustainable economic...